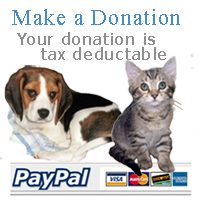 Mansfield Shelter Friends, Inc. is a non-profit organization, staffed by volunteers, funded by donations, and dedicated to raising money for the care of animals at the Mansfield Animal Shelter. We are grateful for every dollar you give. Since the Town of Mansfield does not pay for veterinary expenses, Mansfield Shelter Friends uses donations and adoption fees to cover animals' medical expenses.
Shelter animals are examined by a vet before they are eligible for adoption. If needed, animals are neutered/spayed, and updated on vaccinations. They are also tested for feline leukemia, and heartworm (dogs). Sometimes animals come to the shelter with serious medical conditions that require diagnostic testing and/or surgery. M.S.F. has provided veterinary care beyond basic vaccinations in order to make these animals adoptable into loving homes.

You can print a Donation Form and mail your donation to the address below, or contribute through Pay Pal.
Two ways to donate: